Kick Monday's Ass (no, you're not crazy… it's Tuesday) (January 5, 2021)
It's time to kick Monday's ass…
So I was doing a guided meditation this morning (words I never thought would come out of my mouth, I assure you) and the narrator mentioned this quote: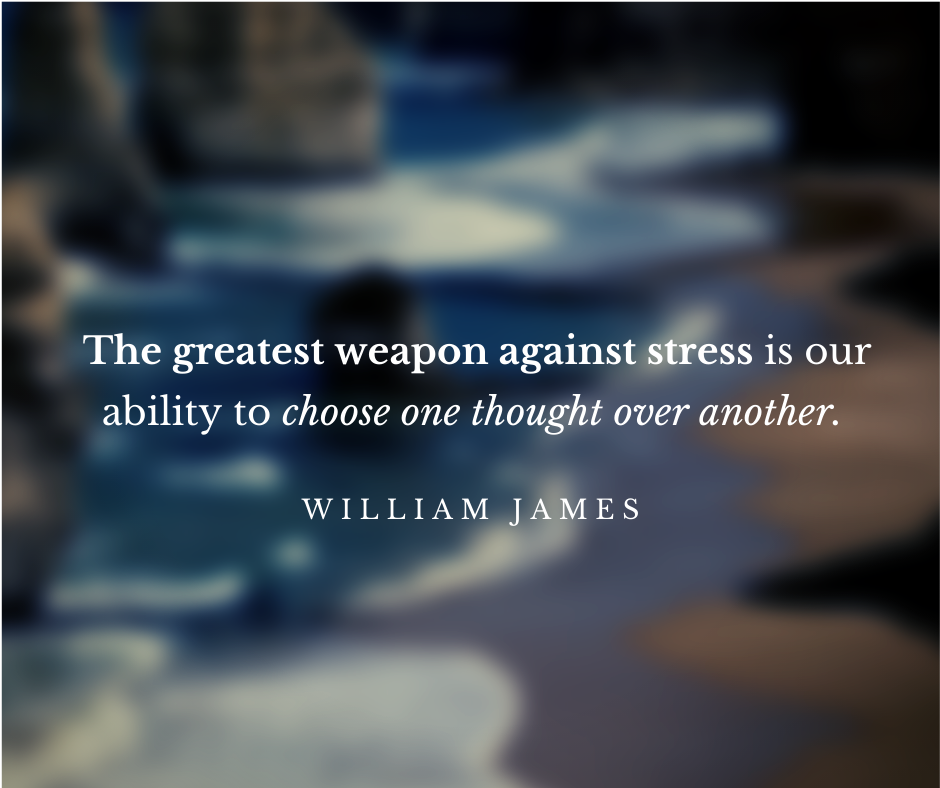 In case you can't see the image above, it says "The greatest weapon against stress is our ability to choose one thought over another."
It immediately grabbed me because frankly, right now my life is a big ol' ball of stress. I'm a few days out from starting the epic 2021 (physically distanced) road trip – first stop, New Orleans.
And of course, road trip means packing all your shit and managing all the travel logistics.
Side note: I swear, every time I pack I find 50 pounds of shit I don't need, that I somehow convinced myself I did. I know you love that full-length hooded cape you wore last Halloween Angie, but you probably won't find much practical use for it while holed up in your Airbnb, kiddo…
At any rate – I think we can all admit how much packing sucks. Moving sucks. Doing it all while leaving a job, recovering from an unexpected breakup, and growing a business… also sucks.
And I could choose to focus all my energy on IF I HAVE TO UNPACK AND REPACK THIS SUITCASE ONE MORE FREAKING TIME…
Or DEAR GOD CAT STOP YOWLING IT'S ONLY A CAR RIDE PLEASE DON'T DO THIS FOR THE NEXT SIX HOURS STRAIGHT…
But I'm pretty sure that's a recipe for me staying in bed and avoiding everything and hoping my mom makes me a grilled cheese sandwich again (she made me one last night because my mom ROCKS) every day from here to eternity.
So I'm choosing to focus on the good stuff to come… I'm excited about my first solo visit to such a music-infilled, history-distilled city. I'm stoked about my fledgling little project (Permission to Kick Ass – book and podcast on the way!) and am having a blast writing articles and pitching big media outlets for press.
And hey, my cat is getting along with my mom's cats. Stella for the win!
So if you're feeling stressed by all life has thrown your way, I hear ya. Now you've got a secret weapon… what will you choose to do with it?
And now for this week's video…
Kick Monday's Ass: learning to swing the pendulum
You know when your brain is at its most creative? It's usually when it's imagining all kinds of worst possible case scenarios, in which immediately after you do the thing you're nervous about, you either die horribly or the world as we know it ends.
Here's how I harness that creativity and use it for good (and used right, this trick can help you get entrepreneurial anxiety under control).
Click above to watch the video, especially if you want to find out how I convinced myself advertising my business would bring about nuclear winter.
Badass of the Week
"When it comes to your future, the sky is the limit…"
~former farmworker-turned-NASA-astronaut Jose Hernandez
I love love LOVE this story – and not just because Netflix is about to make it into a special.
I love how Jose's dad turned the dream into a 5-step action plan – and that young Jose (10 at the time, and couldn't yet speak English) worked that plan all the way to outer space.
And it wasn't EASY… in fact, he got rejected eleven times before ultimately being selected. That's the power of vision + sheer, bullheaded stubbornness and a refusal to quit.
My challenge to you this week… see if Mr. Hernandez's 5-step plan can help you bridge the gap between your present day and your future self.
(If you know someone who should be featured as my Badass of the Week, leave a comment and tell me!)
On Repeat This Week…
This weekend I experienced the pure, unfettered joy that is cruising through winding country roads with the windows down on a perfect sunny day. I turned my tunes up high and hit shuffle… and this one popped up, much to my pleasure.
If you haven't yet heard "Closer to Fine" by the Indigo Girls… you're in for a treat. Here's a little taste of the goodness to come:
I'm trying to tell you something 'bout my life
Maybe give me insight between black and white
And the best thing you ever done for me
Is to help me take my life less seriously
It's only life after all, yeah
…
And I went to the doctor, I went to the mountains
I looked to the children, I drank from the fountains
There's more than one answer to these questions
Pointing me in a crooked line
And the less I seek my source for some definitive
(The less I seek my source)
Closer I am to fine, yeah
Closer I am to fine, yeah
ANGIE COLEE
If you're an aspiring freelancer who's working up the courage to leave the day job… good news! I'm sharing all the things I WISH I'd known before making the leap so that hopefully your journey goes a little more smoothly than mine.