making corsets cool before Bridgerton was a thing…
Day 3 of the Permission to Kick Ass Podcast launch…
When I first started coaching newer entrepreneurs, one of my favorite "stopping blocks" was when people would say, "oh but I can't do THAT, you can't make a living at it!"
Today's guest, Cathy Hay, is my go-to excuse buster for anyone who says that to me. I'd usually say, "If my friend Cathy can make a living teaching people how to sew historically accurate corsets, you can find your special thing too!"
Click here to listen to Cathy's episode!
Don't forget to subscribe and rate – and if you like it, spread the word!
JUST LOOK AT HER, YO: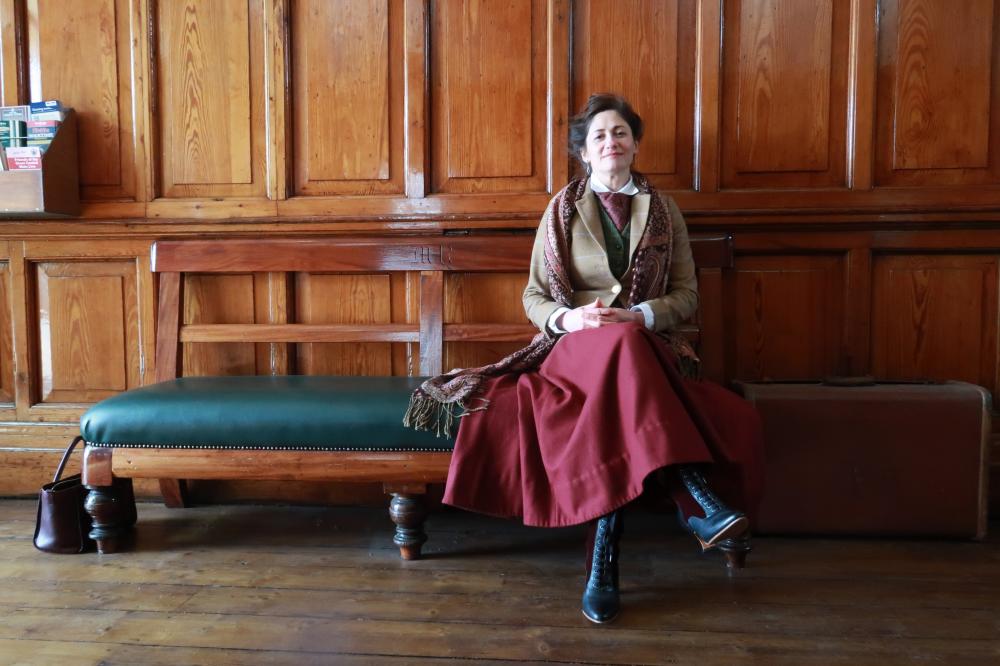 Since we first met a few years back, Cathy's expanded into sewing for costuming and period dress… and she brings her own unique flair to everything she does.
Every time she enters the room, people take notice. Could be the top hat, could be the flowing skirts or tailored jacket. She radiates style and total comfort in who she's evolved to be and I LOVE everything about it.
Can't-Miss Moments From This Episode:
From math teacher to "Mary Poppins" – how Cathy followed her inner introvert's vision to success
What happened when Cathy embraced her quiet, geeky side (instead of trying to change herself to "fit" the market)
Commissions to content to costumes… what started out as pocket money to fund the passion project ultimately became the business
Culture shock: the "exciting, scary, dangerous" perspective Cathy gained when she started making friends with American entrepreneurs
Cathy's version of "pixie dust" – the magical mailing address that has people falling in love with her business and sending incredible handwritten letters from around the world
Take a listen (and don't be surprised if you don't immediately want to binge watch Bridgerton or Downton Abbey just to imagine yourself in costume):
Don't forget to check out episode three of the brand new Permission to Kick Ass podcast!
Stay tuned… I'm releasing an episode every day this week, Monday through Friday. Two more to go this week!
We'll resume your regular Kick Monday's Ass broadcast next week!
Rock on,
Angie
ANGIE COLEE
If you're an aspiring freelancer who's working up the courage to leave the day job… good news! I'm sharing all the things I WISH I'd known before making the leap so that hopefully your journey goes a little more smoothly than mine.