Kick Monday's Ass: I want to live in this hot tub (June 7, 2021)
It's time to kick Monday's ass…
Do you talk yourself out of doing things you want to do?
With all the love I possess: stop that shit right now.
Before I get into why, I wanna show you something: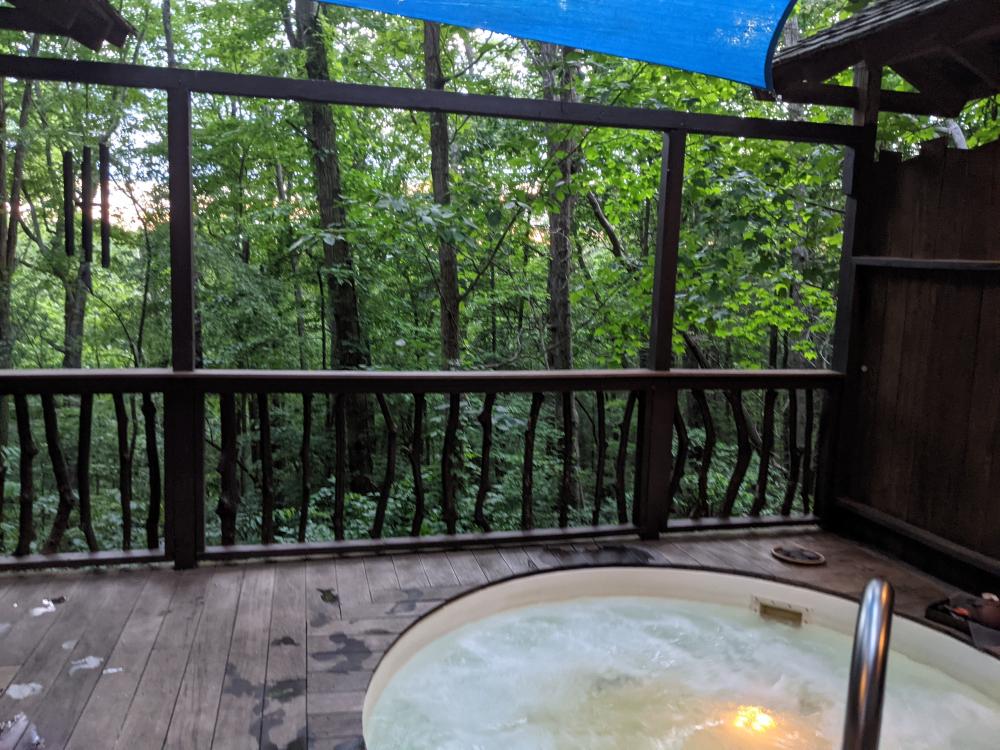 That, my friend, is an open air salt water hot tub up in the mountains. If you noticed, it's in a private "building" but one wall is missing… precisely so you can soak while staring at nature.
This tub happened to be facing west, and my appointment just so happened to be around sunset. So I got to watch the pinks and reds peek through the trees as day slipped into night.
The sunset colors were soon replaced by lightning bugs as full dark fell, and the whole experience was mesmerizing.
I don't tell you all this to brag. This kind of experience is something I ordinarily would have saved for "someday". I would have waited "until"… until I achieved something notable, until I had a special occasion to celebrate, or even until I had someone to go with me.
This time I did it for me. For no fucking reason at all.
I wanted to, so I did. And I'm glad I did.
Sometimes I'm in awe of the opportunities for joy or peace or stillness that we routinely ignore because we "have to" work.
And I get that on occasion, you have to hustle a bit harder to get your business to where it needs to be. But don't lose sight of the big picture, friend.
I built my business so I could carve out time for experiences like this.
I could have filled that hour or two I was in the tub with yet another thing to bring in more cash… but in the end taking that time is going to pay off in ways money can't.
Kick Monday's Ass: the importance of your people
When I first started out, I was under the (seriously deluded) impression that I had to figure everything out on my own. That the only way I could earn a spot to the table was coming to the table already knowing my shit.
And if I'd let go of that "one woman island" notion a lot sooner, I probably would have watched my career take off that much faster.
Seriously, the difference pre- and post-finding my community is like night and day. So get thee into groups and start finding the people who vibe with you, who can support and teach you, who you can help. It can make an incredible difference in your trajectory…
Badass of the Week
Today's badass is Freddie Figgers (and his adoptive parents, Nathan and Betty Mae). As a baby, Freddie was abandoned near a dumpster. And as you can imagine, the kids weren't very kind about that fact as he was growing up.
But thanks to the love and support from Nathan and Betty Mae, Freddie would go on to become a millionaire tech inventor.
I think this quote from the article sums it up nicely… "Don't let your circumstances define who you are."
(If you know someone who should be featured as my Badass of the Week, leave a comment and tell me!)
New podcast episode!
Half the battle in starting a freelance business? It's recognizing when you're behaving like an employee. Today's guest is copywriter and expert marketer Raven Douglas, and brace yourself: it's about to get real. From surviving on ramen noodles to commanding top dollar, we talk about all the ups and downs along the way.
Can't-Miss Moments From This Episode:
Six months of ramen noodles and Vienna sausages: the just-getting-started struggle most freelancers know all too well
A 28-hour bus ride and selling haikus for $5: how hustling to get to a conference wound up quickly changing both our lives for the better
What's in a number: Raven's unique take on setting a price and starting negotiations (hint: it's not all about the money)
If you bill by the hour, better include the time you spent thinking in the shower: the mistake most new freelancers make in tying themselves to time
The difference between becoming a business owner… and hiring yourself as an employee for twice the work, a lot less money, and little to no time off (it's all in the approach – and this is a skill you can totally learn)
You don't want to miss this one. Click here to listen (and subscribe) now!
On Repeat This Week…
This one popped up as I was driving through the mountains with the windows down. It's like… the PERFECT song for that kind of cruising. Today I bring you Feel it Still by Portugal. The Man.
_______________
Ooh woo, I'm a rebel just for kicks, now
I been feeling it since 1966, now
Might've had your fill, but you feel it still
Ooh woo, I'm a rebel just for kicks, now
Let me kick it like it's 1986, now
Might be over now, but I feel it still
We could fight a war for peace
(Ooh woo, I'm a rebel just for kicks, now)
Give in to that easy living
Goodbye to my hopes and dreams
Stop flipping for my enemies
We could wait until the walls come down
(Ooh woo, I'm a rebel just for kicks, now)
It's time to give a little to the
Kids in the middle, but oh 'til it falls
Won't bother me
ANGIE COLEE
If you're an aspiring freelancer who's working up the courage to leave the day job… good news! I'm sharing all the things I WISH I'd known before making the leap so that hopefully your journey goes a little more smoothly than mine.