Kick Monday's Ass: I met a llama (July 12, 2021)
It's time to kick Monday's ass…
I met a llama yesterday. Her name is Figgy: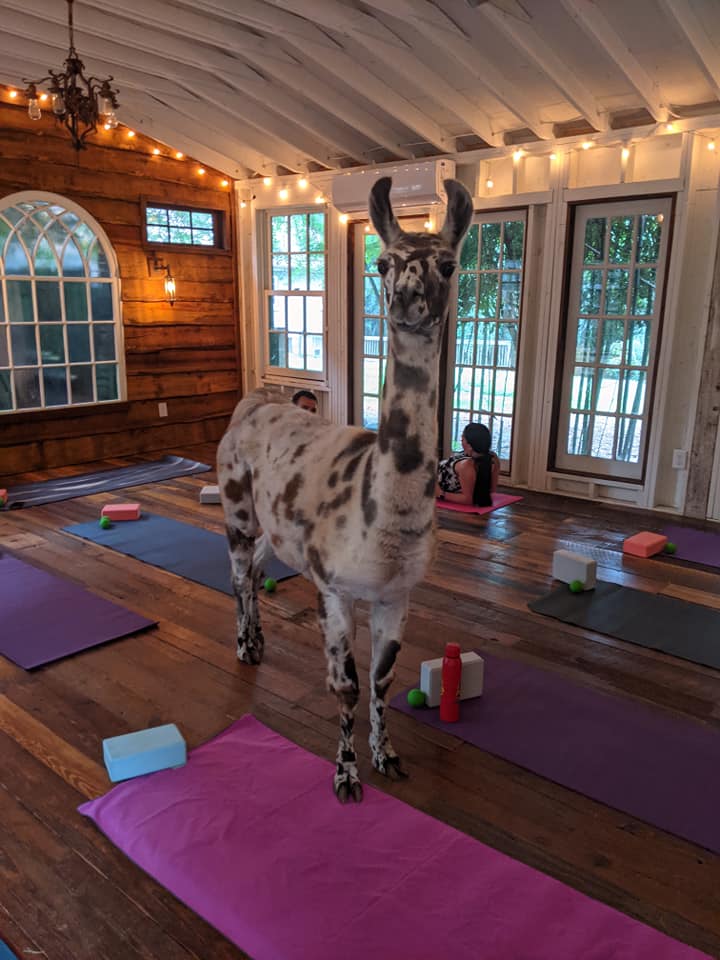 Figgy is a rescue llama, and she helps her caretakers run yoga classes. In fact, Figgy and her llama/alpaca gang are so popular that Netflix just featured them in a show about the best vacation rentals (there's a cool treehouse cabin next door to the yoga studio that they rent out on Airbnb).
Llama yoga is probably one of the strangest experiences I've had to date on my travels, but it was also enlightening. The reason is simple: it's hard to internally wig out over whether your form is perfect when a llama rubs her face against your back or lays down on your mat.
Figgy keeps you in the present, and everyone's secretly hoping she'll stand beside them for the next pose.
I wish I had a deep philosophical takeaway from my experience, but I don't. It was fun. It was relaxing. I got mobbed afterward by insistent llamas and alpacas who REALLY wanted the baby carrots I had in my hand.
I think the best part for me was that I didn't have to go anywhere exotic to have this experience. This was 10 minutes away in East Atlanta. That's the benefit of coming to each town as a tourist – I'm finding the fun and weird stuff that most people don't even know is right in their back yards.
In this day and age, you don't have to go far to find something surprisingly extraordinary. I kinda wish I'd treated all the cities I've lived in like this, and really explored vs settling in and getting right into a routine.
I didn't really SEE much in those cities, unless I was showing a friend around. But the beauty of this journey is I get to see things through a different lens. So far I'm loving it. I get to town, locate the good food, and book the weirdest experiences I can find.
Maybe try on "tourist" for size, especially if it's been awhile since you explored your own town. There are all kinds of opportunities for weirdness and joy out there, if only you look.
Some of them may even be in your own little corner of the world.
Kick Monday's Ass: learning to think in a different way
There's a common entrepreneurial trap that a lot of the gurus don't really talk about… and it happens when you apply your old way of thinking to a new path. I made this video last year, and it's still relevant.
Are you hiring yourself to be an employee, or are you really an entrepreneur?
Badass of the Week
Today's badass is Kieran Moïse, teen from Alabama who turned a personal tragedy into a triumph for others.
After losing a friend to cancer, he vowed to donate his hair to organizations that make wigs for kids and adults going through chemo. And then when the time came, he turned it into an event to raise money for St. Jude.
His initial goal was to raise $1000 per inch cut (substantial considering his hair was 19 inches long!). As of this morning, the fundraiser has made over $45,000 and is still going strong.
(If you know someone who should be featured as my Badass of the Week, leave a comment and tell me!)
New podcast episode!
There's this recurring theme out there that entrepreneurship is supposed to be hard – but what if instead, we made it fun? (case in point, this silly little sidebar from our chat)
Today's guest, Megan Cahak, and I like to run a business with that attitude in mind. In this episode, we talk about how to approach running a biz like you're grabbing a beer (or non-alcoholic bev) with a friend.
Can't-Miss Moments From This Episode:
"Oh, just start your side hustle. Oh, just make more money" – How this advice can help you become an entrepreneur… but also hold you back
One of the first times in my life I've ever been called "wholesome" – Megan and I cover strategies to deal with the anxieties of entrepreneurship
Happiness not guaranteed: here's what to aim for when building your business (it's counterintuitive, but you'll be a lot happier in the long run)
The four letter feeling EVERY entrepreneur chases, even though they have no freaking clue what it means (hint: it's different for everyone)
A common networking mistake people make without ever saying a word
You don't want to miss this one. Click here to listen (and subscribe) now!
On Repeat This Week…
I'm feeling high energy today, so I bring you Out Here All Night by Damone. Full disclosure: the video's got a bit of a slasher flick theme if you're averse to that kinda thing. Regardless, this one's good for getting the blood pumping.
_______________
Summer's coming too fast
Winter's been here too long
If we keep wasting our days
Pretty soon they'll be gone
I've been out here all night
I've been out here all day
With my eyes open wide
Hoping that you will say
Everything is alright
We can be happy too
If you look out for me the way I looked out for you
ANGIE COLEE
If you're an aspiring freelancer who's working up the courage to leave the day job… good news! I'm sharing all the things I WISH I'd known before making the leap so that hopefully your journey goes a little more smoothly than mine.