Kick Monday's Ass: I found Little Switzerland (June 21, 2021)
It's time to kick Monday's ass…
So there I was in Little Switzerland…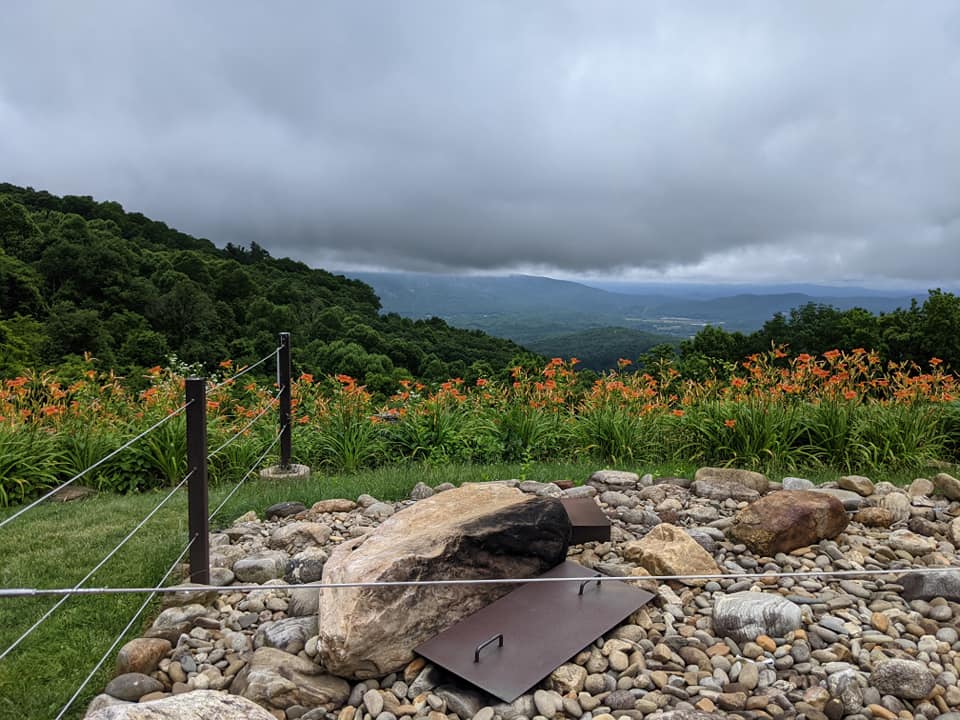 This is yesterday afternoon.
Let me zoom back out a sec – I had no idea this place existed before I happened upon it. I didn't set out to find an idyllic fire pit/seating area surrounded by lilies overlooking the mountains, but I found it regardless.
With just under a week to go until I leave Asheville, I've been frantically trying to check all the stuff off my to-do list. One of those things was to drive the Blue Ridge Parkway. I didn't even have a destination in mind – just wanted to do the drive.
So I said "yes" to that desire and hit the road with no real plan.
I did stop at the info center in Asheville to grab a map – but I wound up never looking at it. I simply headed north until I hit a detour at Linville Falls, at which point I went to check out the waterfall (stunning), and then turned around and came back.
All along the way I stopped at little villages and vistas to take pictures, hence finding Little Switzerland.
Look, I absolutely could have sat down and come up with the perfect road trip plan, timed things out, and done things way more efficiently than I did. But I had just as much fun winging it and making little discoveries as I would have had with checking all the "things" off the list.
Sometimes no plan can be a plan. Just do the damn thing, and see what happens.
You might find the perfection of the plan comes from following all the little detours and surprises life throws in your path.
Kick Monday's Ass: the road that leads you where you want to go
Speaking of plans – this video from back in October fits perfectly with my "I don't have a plan" plan to drive the Blue Ridge Parkway.
Do you daydream about your future? Fantasize about your dream life? You're on the right track… because that's the first step in figuring out how to make it happen.
Any road will get you there if you don't know where you're going – so having a destination in mind is key.
Badass of the Week
Today's badass is ZaNia Stinson, who has so far given away over 800 bags filled with nonperishable food, water and toiletries to help Charlotte's homeless population.
She founded her project, Z Feeds Go-Go Bags, when she was just 9 years old.
"I've been doing this to help others because I know how it feels to not have food and to not have anywhere to stay," Stinson said. Get the full story here.
(If you know someone who should be featured as my Badass of the Week, leave a comment and tell me!)
New podcast episode!
What happens when it's time to go on stage or start a presentation… and you've got nothing?
This week's guest is my personal mentor and long-time coach, Kevin Rogers. Kev was a stand-up comic for a long time before transitioning into copywriting and eventually building a community of copywriters.
And if you didn't already know, I'm a blues singer who's had her share of bombs and literal face-plants on stage.
Join us for a candid look at how performers get "live mic ready", dealing with very public failures, and building genuine connections.
Can't-Miss Moments From This Episode:
Let's get meta: Kev and I explore the behind-the-scenes work that goes into putting on a podcast, what makes a great guest, and the staggering "7 episode" statistic that derails most would-be podcast creators
When seconds count: how Kev thinks through preparing for a speaking engagement when it has to come in right on time. With no room for over or under, how does he nail the timing?
How I went from newbie podcast host to recording enough content for an entire year inside 4 months (hint: there was a lot of making it up as I went)
What do you do when your performance or gig or speech bombs? (Bonus: massive fail stories from me and Kev's time on stage)
"Don't tell me what to do" – a counterintuitive parenting approach that works in just about any kind of business or personal situation (especially if you want to keep that relationship!)
You don't want to miss this one. Click here to listen (and subscribe) now!
On Repeat This Week…
I don't care who you are, this one is fun to cruise to. Especially windows down on a windy mountain road.
Today I'm listening to Icky Thump by The White Stripes.
_______________
So I gave a drink of water
I'm gonna sing around the collar
Well, I don't need a microphone
Icky thump, with the lump
In my throat
Grab my coat
And now it's reckon
I was ready to go
ANGIE COLEE
If you're an aspiring freelancer who's working up the courage to leave the day job… good news! I'm sharing all the things I WISH I'd known before making the leap so that hopefully your journey goes a little more smoothly than mine.