Kick Monday's Ass: gratuitous waterfall picture inside (June 28, 2021)
It's time to kick Monday's ass…
I have a confession…
My name is Angie and I have a bad habit of procrastinating on things. Particularly when it comes to my travels.
It goes something like this: I get to town, spend a day or two settling in and unpacking, re-establish my work routine. Before I know it, a week has passed and the thought occurs to me… fuck, I should probably go adventuring.
I start reaching out to friends, consulting endless listicles, and checking my notes on things to do in each place I visit. Then work and life and podcast production kick in and I find myself falling into the same pattern… an adventure or two per week, and then the last week is OMG DO ALL THE THINGS.
That wasn't so bad in say, Memphis. I literally hit all the musical museums (and there were a lot) in one day, and still managed to get some of Gus's World Famous Fried Chicken (highly recommend if you make it to Memphis).
But last week was my last week in Asheville NC, and there was a waterfall hike I really wanted to do. The caveat: my only available open time block was Friday morning, which is when I usually pack/clean in prep for the Saturday move.
I mean check this sucker out: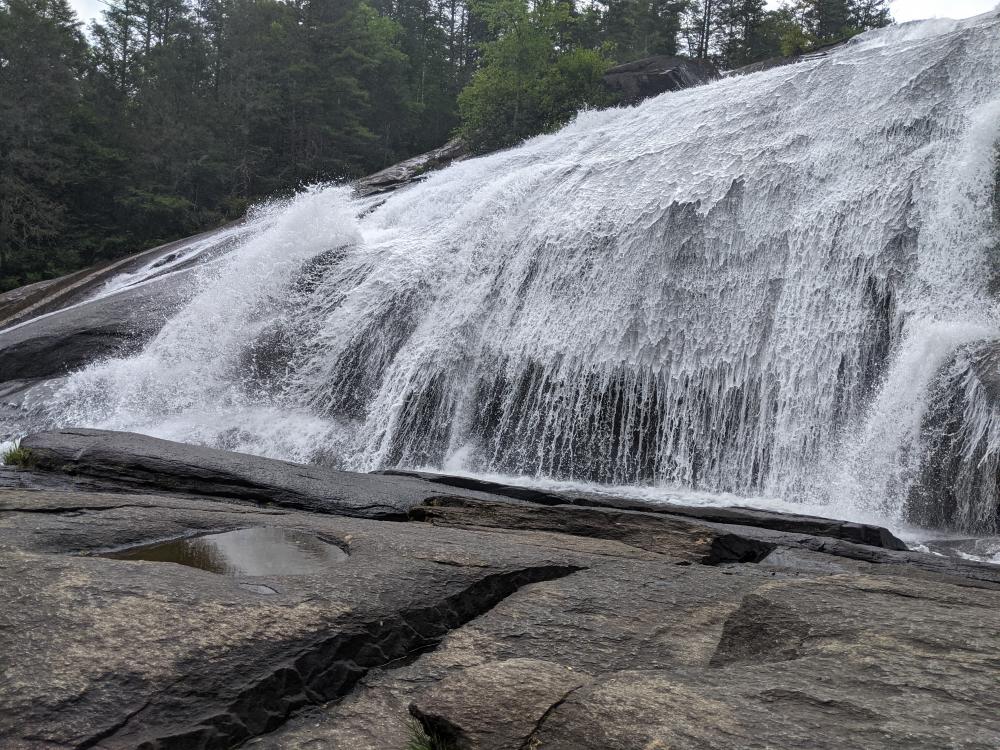 That is High Falls in DuPont State Forest. Half a mile down the mountain was Triple Falls, which was a filming location in The Hunger Games.
I can't even begin to describe the awe I was in when I took this picture. I know I found a tree stump and sat there for the better part of an hour, listening to the roar of the water and feeling the mist on my face.
I was actually mad I didn't bring my ReMarkable tablet so I could write at the base of a fucking waterfall. Lest you think I'm an uber-nerd, there was totally another writer there (behind me in this pic), blithely scribbling away in a spiral-bound notebook.
I'm glad I did the hike. I'm glad I had one of the best fucking burgers of my life after said hike. I'm not glad that I had to pack and clean when I got back, because of my own flawed timing.
This is the first time that procrastination habit really came back to bite me in the ass, in terms of interfering with my travel plans. I was late getting out of Asheville on Saturday, but my Airbnb hosts were amazing about it.
Ultimately Stella and I got to Atlanta just fine, and I'm figuring out where to put all my shit as we get settled.
And this time, I don't plan on leaving everything until the last week. Breaking patterns starts with awareness that you've got a pattern to begin with.
Kick Monday's Ass: You Win or You Learn
We're used to looking at life (and business) through a lens of "win" or "lose". And while parts of this journey are gonna feel like a race, that doesn't mean only the person who finishes first gets to call themselves a success.
Not only do you get serious status points just for finishing the damn race, you learn a lot about yourself and what to do better next time. Here's what I mean…
Badass of the Week
Today's badass is a group of people – specifically the European Space Agency. They are actively looking for disabled folks who want to become astronauts, because as they say, "Space is for everyone."
It already takes a special kind of person to want to strap themselves into a jump seat in a rocket and go hurtling through space – and I'm glad that someone out there recognizes that desire exists in a more diverse group of candidates.
(If you know someone who should be featured as my Badass of the Week, leave a comment and tell me!)
New podcast episode!
Can we agree to call BS on anyone who brags about how easy the "laptop lifestyle" is? Maybe after years of working at it, you can get it to that point… but then you've got a whole NEW set of challenges.
That's what we're talking about with this week's guest, Belinda "Bill" Weaver, who experienced this firsthand when she relocated from Australia to the US a month after having a baby.
Can't-Miss Moments From This Episode:
Bullshit brownie points and sarcastic gold stars: you don't get extra goodies for doing everything all on your own, so stop that martyr shit right now
Is what you're doing keeping you stuck? Here's one big mistake I made at the start of my freelance career that slowed down my growth and held me back for years
Work-life identity crisis… from biz owner in Australia to baby mama in the US, how trying to shoehorn in biz talk to all the baby banter was a blow to Belinda's confidence
Get a life: the counter-intuitive reason why deliberately spending time away from your business is vital to your business's growth and long-term success
My mini meltdown about all the stunningly gorgeous brand photos I see other coaches doing (and what I did to get out of the funk and get moving again, without enlisting a team for a full makeover)
You don't want to miss this one. Click here to listen (and subscribe) now!
On Repeat This Week…
So I finally got on board with binge watching The Handmaid's Tale over the last few weeks. And of course, ever since, this one has been stuck in my head. It's just such a good groove – and I really love the different vocal effects between the verse and chorus. Today I bring you Glory Box by Portishead.
_______________
From this time, unchained
We're all looking at a different picture
Through this new frame of mind
A thousand flowers could bloom
Move over and give us some room, yeah
Give me a reason to love you
Give me a reason to be a woman
I just want to be a woman
ANGIE COLEE
If you're an aspiring freelancer who's working up the courage to leave the day job… good news! I'm sharing all the things I WISH I'd known before making the leap so that hopefully your journey goes a little more smoothly than mine.